EditRegion3
Long Time Columbia Pachyderm Member
William D. "General MacArthur" Hobbs
1932 to 2014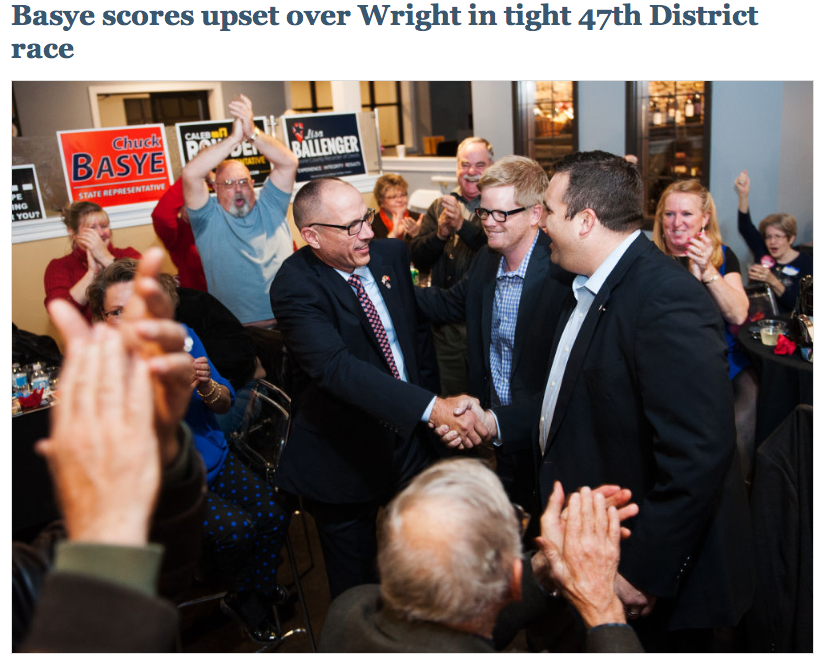 (Screen shot from online Columbia Tribune, November 5, 2014)
Shown above on the left shaking hands with Representative Caleb Jones, District 50, at the Republican watch party in downtown Columbia, Missouri is the newly elected representative of the 47th District, Chuck Basye. Chuck beat the incumbent John Wright in a close race Tuesday, November 4th.. Also pictured in the center is Representative Caleb Rowden, District 44. Rowden and Basye are both Pachyderms. Chuck Basye is a former president of the Columbia Pachyerm Club.
Here is a heartfelt shout out to four great super stars who donated their time, talent, money, and reputation to run for election in the Boone County Races. None of these great candidates won, but they sure came close, which is a reflection of the hard work they and their families, close friends, and others we may never know who helped them get so close to winning. They are four outstanding citizens who had the courage, stamina and fortitude to run for their respective offices. So, hats off to the Mayor of Hallsville, Cheri Reisch who ran for Boone County Collector of Revenue; Lisa Ballenger, who ran for Boone County Recorder of Deeds; Jimmy Pounds, who ran for Boone County Commissioner; and Mike Whitworth, who ran for Associate Circuit Judge, District 13. All of these candidates ran with honor, distinction, and integrity. We hope they can find a way to run again, because the citizens of Columbia, Boone County, and the State of Missouri deserve their services.

Many of us were so involved in the State Rep and local county races that we hardly paid much attention to those most important races, State Auditor, and US Representative for Missouri's 4th Congressional District. Thanks to Mrs Hartzler's staff for providing support to the local candidates and the Boone County Republican Committee, for which are all most grateful. We never thought their candidacy was in jeopardy, since both Vicki and Tom have well entrenched reputations all across the state of Missouri. Still, one can't take anything for granted, and it was most gratifying at the end of election night to see them both win by huge margins. We predict the next two years will be most contentious at both the state and federal level. Now that the Republicans have secured majority positions in both houses at the national and Missouri level, with both of thoe bodies run by a Democrat, we think the next two years will be most contentious and difficult. Republicans, however, are the party of liberty, freedom, and integrity. We salute Vicky Hartzler and Tom Schweich and we wish them well as they press forward to bring America back to its constitutional roots.
W e are the ColumbiaPachyderm Club, the original Pachyderm club founded in Columbia, Missouri in 1967 by the late George Parker. We meet every Friday for lunch at Jack's Coronado Restaurant located at the intersection of the I-70 Business Loop and Old Hwy 63. A buffet lunch begins at 11:30 A.M. and the business session begins promptly at 12:00 P.M. and ends promptly at 1:00 P.M.
We strive to have a guest speaker at each meeting. Our meetings are open to the public. We are a political club that holds Constitutional and Republican principles and as such we are oriented towards the Republican Party, but we do not endorse candidates in primaries, and we normally do not take official stands on issues. However, we are generally supportive of all candidates and we hope to be an inspiring force for the discovery and recruitment of good candidates.
To provide a practical means for broad citizen participation in politics, and to promote practical political education and the dissemination of information on our political system. To promote development of potential leaders and to assist in carrying out the principles and purposes of the Republican Party in the following fields of leadership in government, individual rights and freedoms, clean government with local emphasis, and an informed public on the status of government and the issues of the day.