EditRegion3
Long Time Columbia Pachyderm Member, Bill Wolff, Awarded the Coveted Missouri Veterinary Medical Association Veterinarian of the Year Award.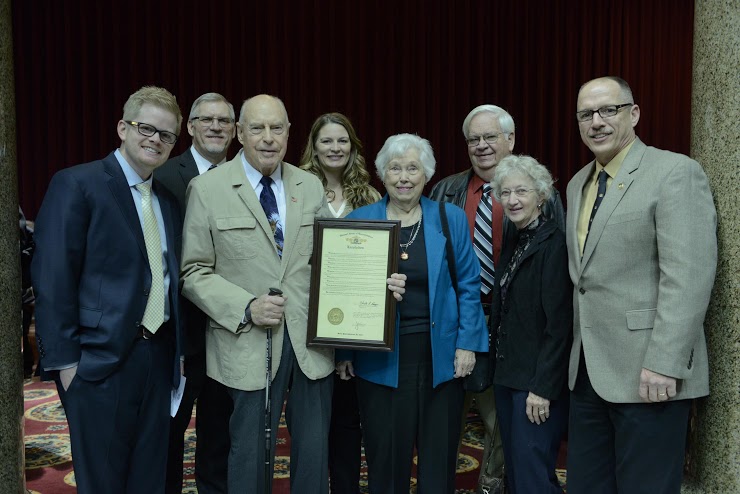 William A. Wolff, DVM, Columbia, Mo. was honored at the Missouri Veterinary Medical Association's (MVMA) 123rd Annual Convention on January 24th as the recipient of the coveted Veterinarian of the Year Award. Dr. Bill Jones, Versailles, Mo. presented the award to Dr. Wolff at the ceremony. In the photo above, Bill was recognized by the Missouri House of Representatives. Representative Chuck Basye.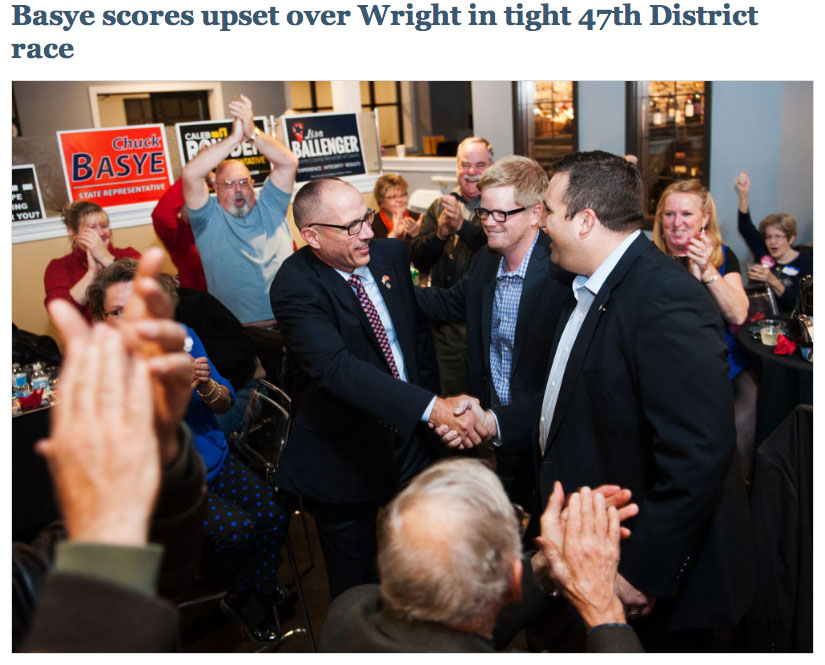 (Screen shot from online Columbia Tribune, November 5, 2014
Shown above on the left shaking hands with Columbia Pachyderm candidate, Chuck Basye, is Representative Caleb Jones, District 50. This photo was taken at the Republican watch party in downtown Columbia, Missouri. Chuck, the newly elected representative of the 47th District, beat the incumbent John Wright in a close race Tuesday, November 4th. Also pictured in the center is Representative Caleb Rowden, District 44. also aPachyderm. Chuck Basye is a former president of the Columbia Pachyderm Club and is still active in it.
W e are the ColumbiaPachyderm Club, the original Pachyderm club founded in Columbia, Missouri in 1967 by the late George Parker. We meet every Friday for lunch at Jack's Coronado Restaurant located at the intersection of the I-70 Business Loop and Old Hwy 63. A buffet lunch begins at 11:30 A.M. and the business session begins promptly at 12:00 P.M. and ends promptly at 1:00 P.M.
We strive to have a guest speaker at each meeting. Our meetings are open to the public. We are a political club that holds Constitutional and Republican principles and as such we are oriented towards the Republican Party, but we do not endorse candidates in primaries, and we normally do not take official stands on issues. However, we are generally supportive of all candidates and we hope to be an inspiring force for the discovery and recruitment of good candidates.
To provide a practical means for broad citizen participation in politics, and to promote practical political education and the dissemination of information on our political system. To promote development of potential leaders and to assist in carrying out the principles and purposes of the Republican Party in the following fields of leadership in government, individual rights and freedoms, clean government with local emphasis, and an informed public on the status of government and the issues of the day.